Posted by New Case on 9th Aug 2022
After investing hundreds of dollars in a new iPhone 13, you should do everything to protect your investment. iPhone 13s are fortified with Ceramic Shield and tough glass. But these technologies don't safeguard against drops, scratches, and scrapes. Fortunately, you can buy an iPhone 13 case to add an extra layer of protection.
Most iPhone 13 wallet cases on the market don't have enough slots for all essentials. As a classy woman, carrying your phone in one hand and your purse in the other can undermine your stylish look. The best iPhone 13 wallet case should hold all your cards, cash, and receipts. Remember, iPhone 13 models come in different sizes. Some iPhone 13 Pro cases are compatible with iPhone 13. But you can't use an iPhone 13 Pro Max case or iPhone 13 Mini case on other iPhone 13 models. Understand these differences to avoid last-minute surprises. So, best iPhone 13 wallet case when you need lots of card slots?
Here are the top five iPhone 13 wallet cases with enough slots for your cards to help you make informed choices:
1. Mercury Mansoor Diary Wallet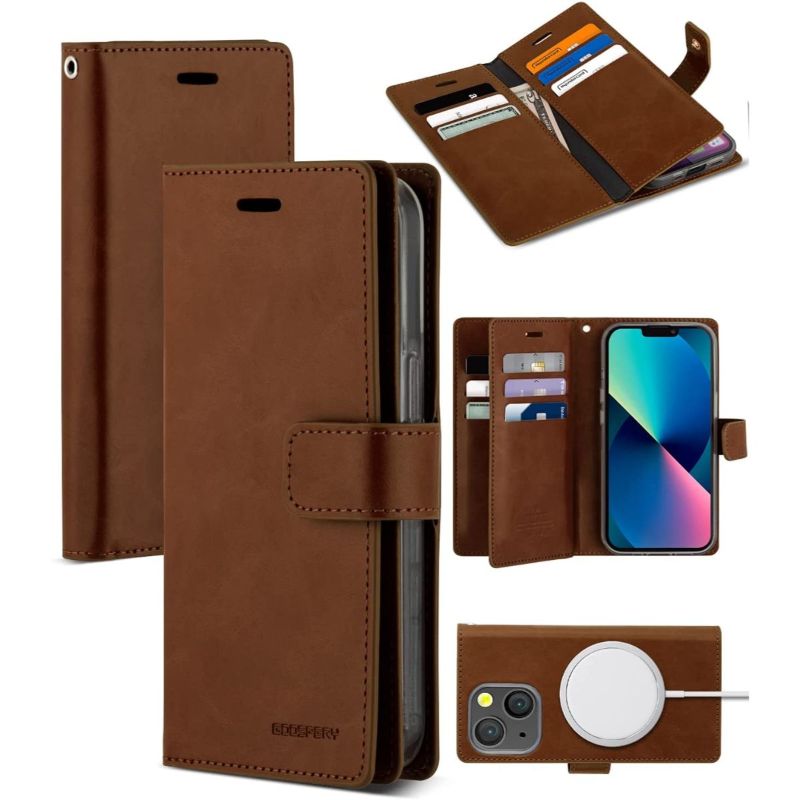 Mercury Mansoor is renowned for its unique designs. The latest offering from this iconic brand is the iPhone 13 wallet case that strikes a balance between practicality, durability, and aesthetics. This wallet case offers 9 card slots and 2 side pockets for cash and receipts.
Mercury wallet case protects your iPhone without undermining your stylish look. It has a durable PU leather exterior and a flexible TPU inner case to protect your phone from accidental drops and bumps. With this iPhone 13 wallet case, you won't have to worry about scratches on the screen or rear camera. The inner case is designed with raised lip technology that protects the screen and rear camera against scratches. The wallet has an RFID Blocking Card that safeguards your cards, reducing the risk of identity theft. Mercury Mansoor offers everything you need in an iPhone 13 wallet case!
2. CaseMe Multifunctional Wallet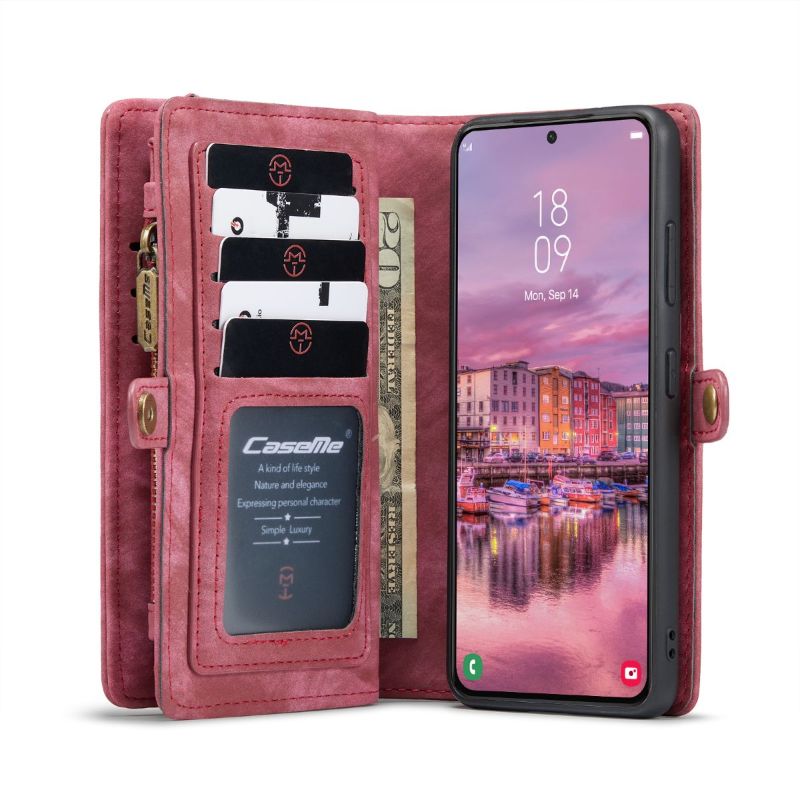 CaseMe Multifunctional Wallet adopts a 2-in-1 design, with a stylish pouch purse and detachable iPhone 13 case. The purse has 11 card slots, 3 cash pockets, and a zipper bag. So, all your essentials will fit nicely into this wallet. It is the best iPhone 13 case for women.
The iPhone 13 wallet case has shock absorption, a drop protection bumper, and a built-in magnet. You can detach the phone case and use it without the wallet. CaseMe uses durable PU leather with the perfect texture, offering a comfortable and natural feeling in your hands. Precise cutouts allow easy access to the speaker, camera, and buttons. Its elegant design is perfect for stylish women.
CaseMe offers wallet cases for different iPhone models. Whether you need an iPhone 13 Pro, Mini, or Pro Max case, CaseMe has it all. Double-check your iPhone model and select the perfect CaseMe Multifunctional Wallet for your phone.
3. Tekcoo Wallet Case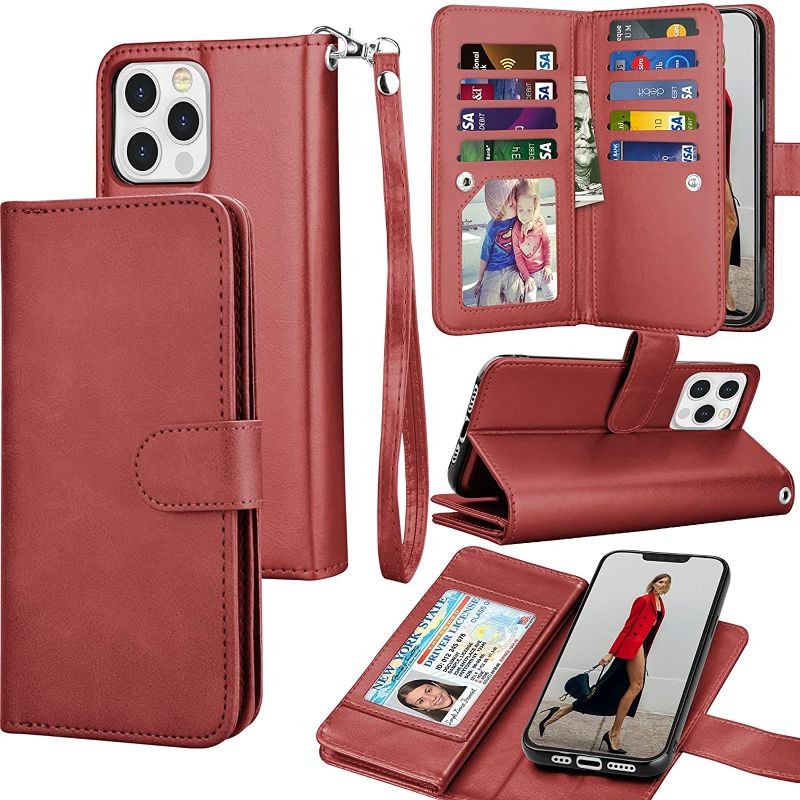 Tekcoo Wallet Case is compatible with iPhone 13, not iPhone 13 Pro. This detachable wallet case has a built-in magnet and 11 card slots. The outer layer is made from leather that protects your phone against wear and tear, scratches, and scrapes. Tekcoo iPhone 13 wallet case is designed with precise cutouts for easy access to buttons, camera, speakers, and connector. It also has a built-in kickstand that allows you to make hands-free video calls, read, or watch movies.
4. Bocasal Wallet Case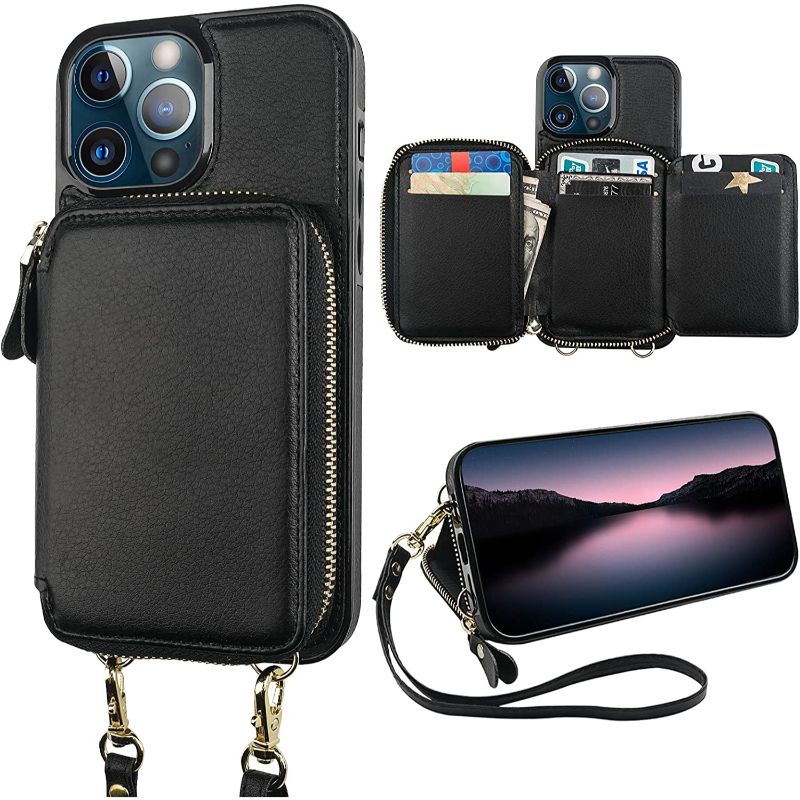 Bocasal offers a zippered purse case compatible with iPhone 13 6.1-inch. Like Mercury Mansoor wallet, Bocasal iPhone 13 case also comes with an RFID Blocking Card. It also provides card slots, a cash pocket, and a detachable crossbody strap. You can use an anti-lost hand wristlet lanyard when shopping, walking, hiking, or traveling. This iPhone 13 wallet case is designed with a kickstand and made of faux leather with a smooth texture to enhance your comfort.
5. Misscase Wallet Case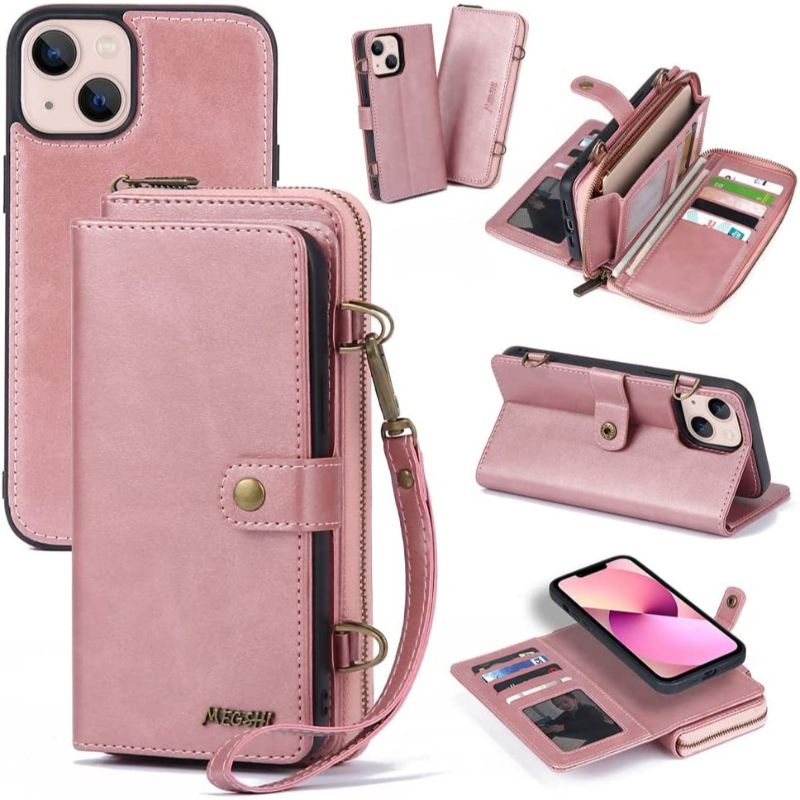 Misscase iPhone 13 wallet case has 13 card slots, a cash pocket, and a zipper wallet. It is a 2-in-1 wallet case with enough space to carry your iPhone, credit cards, ID, cash, and lipstick. You can disassemble it to use the iPhone 13 case or the wallet separately. If you need to read or watch movies, open the wallet and prop it up with the kickstand. This iPhone 13 wallet case also comes with a lanyard and a unique zipper design, ideal for socially active ladies or busy moms.
At New Case, we offer high-quality phone cases and accessories at affordable prices. Stylish women across Australia can rely on our online store to buy iPhone wallet cases for iPhone 13, Pro, Mini, and Pro Max.