Posted by New Case on 12th May 2014
This article provides information about popular smart phone models in the Samsung Galaxy range.


Samsung Galaxy S5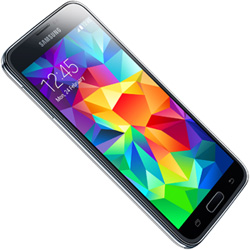 The Samsung galaxy S5 is the latest model of Smartphone in the galaxy family, released in April 2014 just two months after its announcement. It's a flashy handset measuring 142x72.5x8.1mm. It's portable and easy to carry with net weight of 145g (5.11oz). For easy and safe functionality, it's designed to resist water to the level 1 meter and in time duration of 30minutes. Unlike the other families of galaxy, Samsung galaxy S5 was designed to enhance full protection of user's data by mounting it with a finger print sensor that only allows access to its owner.

Key feature of Samsung galaxy S5 that makes it stand out are: OS- android OS, V4 (kitkat),Chipset- QUALCOMM - MSM8974AC - Snapdragon 801,CPU- Quad-core 2.5GHz Krait 400.It is fixed with a GPS that can help you track it in case it's stolen or misplaced. In addition, it has bio features, which can be useful in helping you monitor your health, features like heart rate. Discussed above, are features added to ones found in Galaxy S4.
Samsung Galaxy Ace 3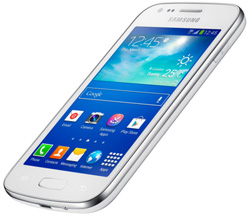 The newest model when it comes to Samsung's access-level android range is Samsung Galaxy Ace 3 which consists of an improved performance. This is due to its affordability, surprisingly good screen and existence of impressive variety of features such as NFC.

Features

Hardware: the spec sheet consists of: 1 GB RAM, 8 GB internal memory, 1.2 GHz cortex A9 dual core CPU, micro SD and a battery life of 1800mAh. For connectivity, Samsung Galaxy Ace 3 uses Wi-Fi, GPS, NFC, 4G and Bluetooth.

Screen: Samsung galaxy Ace 3 has a resolution measuring 480x800, 4 inch screen size and super AMOLED ppi 233 display size hence allowing ease of use in all conditions. This enables easy texting, reading, clear photo capturing, good video streaming and gaming.

Camera: it consists of front camera of 0.3 MP which enables clear video chatting via Skype, messengers and a rear camera of 5 MP, 720p video hence delivering quality photos.

Software: Galaxy Ace 3 consists of Android 4.5 Jellybean with allows easier navigation between different programs.
Samsung Galaxy Note 3
The Galaxy Note 3, the flagship model from Samsung in the phablet segment, was released on September 25, 2013. Design wise, it is lighter and sported a completely new look when compared to its predecessor, the Galaxy Note 2. Most of its premium look is due to the polycarbonate-based design, but the plastic leather and the faux stitching on the back cover did not go well with many critics. Performance wise, the Samsung Exynos 5 Octa 5420 chip (Octa-core 1.9 GHz Cortex-A15 and 1.3 GHz Cortex-A7) and the 3 GB LPDDR3 RAM churn out enough processing speed to smoothly play even the most graphic-intensive games available in the Android PlayStore.

The phone came with a 5.7-inches Full HD (1920×1080) Super AMOLED display at 388 ppi which reproduced colors brilliantly with excellent viewing angles. The gadget had a 13 megapixel camera on the rear side that can record 4K video and a 2 megapixel snapper on the front. The 3,200 mAh battery helps the phone last a full day on moderate usage. Just like other smartphones from the brand, the Samsung Galaxy Note 3 comes with a removable back cover and an option for MicroSD. The Note 3 is available in both 32 and 64 GB versions. The gadget shipped in with Android Jelly Bean 4.3 OS, but now, an update to Android KitKat 4.4 is made available.
Samsung Galaxy S4 Mini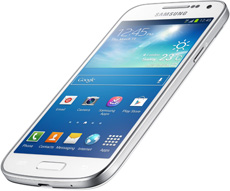 The Samsung Galaxy S4 Mini was announced on May 2013 before it was released in July of the same year. It was produced as a mid-range model for the flagship Galaxy S4 Smartphone by the Korean electronics giant Samsung. It is also the successor to the Galaxy S3 Mini. This Smartphone shares a number of software and hardware features with its more advanced counterpart Galaxy S4.

The Samsung Galaxy S4 mini features a variant but almost identical polycarbonate hardware design of the Galaxy S4. It runs on android 4.2 powered by 1.7 GHz dual core Snapdragon 400 central processor with 1.5GB of memory as well as 8GB HDD which is expandable. It also features a 4.3-inch qHD (540 x 960 pixels) Super AMOLED screen (with 256 PPI pixel density) and two cameras: 8-MP rear-facing camera and 1.9-MP front-facing camera.

Like its high-end counterpart, the Smartphone features the Samsung's innovative TouchWiz software. The Samsung Galaxy S4 mini is available in various sub-models including GSM & HSDPA (GT-I9190); TD-SCDMA (GT-I9198); LTE (GT-I9195), which supports Near Field Communication; Dual SIM (GT-I9192), with 16 GB of memory in certain regions; and the Canadian AWS LTE (SGH-I257M).
Samsung Galaxy S4 Active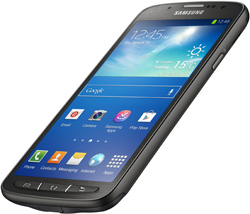 The Samsung Galaxy S4 actives SGH-1537 is a waterproof and durable cell phone with a Camera that goes as high as 8-megapixel. It comes with an infrared universal remote control, a super sensitive touch screen, and unique software such as language translator and OCR. It is well equipped with a 5 inch Super AMOLED display with a long lasting Gorilla Glass 3, 1.90GHZ quad-core processor, WCDMA, quad band GSM modes for international use, removable battery, LTE high-speed data, and a microSD Memory card slot. Just as is the case with the S4, the actives can detect hand gestures over the display, and is equipped with internal memory of 16GB.

Samsung's galaxy S4 active offers unique capabilities in terms of taking photos while under water or on the bike. Regardless of how hostile the weather is, with this device you will always have access to thousands of games, movies, music, Google's play store, and thousands of apps. Samsung galaxy S4 active is one of the biggest achievement in the world of Cell phone manufacture.
Samsung Galaxy S4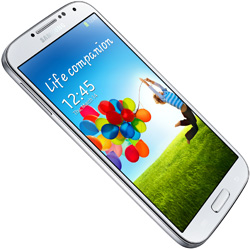 The Samsung S4, with the Slogan "Life Companion" is a sleek, smart phone running on an Android 4.2.2 operating system. It is a super light phone that weighs only 130g and is 5.38 inches long, 2.75 inches wide and just 0.31inches thick.

The Phone supports 2G, 3G and 4G networks and uses a Micro-SIM. The screen of the phone is made with corning gorilla glass 3 for advanced protection to avoid breakage and it is a Multitouch. The internal memory of the phone ranges from 16, 32 and 64gb with an expandable size of up to 64gb and runs with a RAM of 2gb.

It has a Bluetooth of v4.0, an infrared port, USB port and NFC for data transfers. This Samsung Galaxy S4 has 2 cameras with the primary camera having 13MP while the secondary has 2MP. It has sensors that sense speed, temperature, humidity, gestures, directions and pressure. The phone supports multiple audio and video files and has a 3.5mm jack port for headphones. All these exciting features make it one of the best smartphones from Samsung.
Samsung Galaxy Young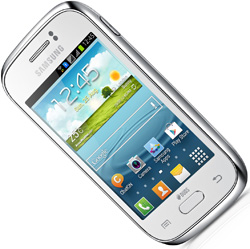 The Samsung Galaxy Young is one android phone which has gained popularity due to its nature and features. Almost similar to the Samsung Galaxy Fame, Galaxy Young is that budget phone anyone would want to own. For those who do not have many demands, this is the perfect phone.

The design of the Samsung Galaxy Young is almost similar to the famed Samsung Galaxy S3. It is small and compact, approximately 3.27 inches. Its curved rear and smooth edges are also a plus as it fits comfortably in the hand. The plastic cover kind of makes the phone appear less fragile.

The phone has a 320 by 480 pixel screen which might come as a disappointment to those who love taking photographs. Despite this small hitch, the screen is perfectly usable. For those who love to send messages, the phone boasts of an accurate keyboard with keys conveniently spaced apart from each other.
Samsung Galaxy S III Mini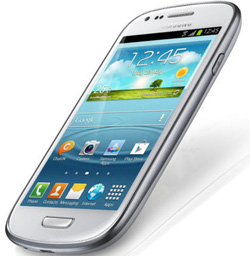 This phone comes in an attractive compact nature inspired design. The Samsung Galaxy III Mini offers an ergonomic experience and superior usability. The grip is comfortable and its gentle curves give it great natural feel. It comes with a 1.5GHz dual core Qualcomm MSM8930 processor and relies on Android 4.1 Jelly Bean operation system.

The device has a 4.0" AMOLED display that provides generous viewing. This display offers amazing clarity and color.

It has a rear 5-megapixel camera, which has an LED flash. The Samsung Galaxy S III Mini also has a front-facing VGA camera that is designed for video chats and self-portrait use. Some of the shooting modes users get in this device include beauty face, sports shot, panorama, and night mode.

The device offers Pop Up Play, a feature that makes it possible to send messages while you are watching videos. This is a compact mobile phone but it still allows you to multitask.
Samsung Galaxy Note II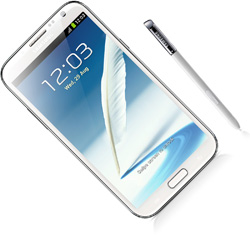 Samsung Galaxy Note II fondly referred to as Note II is an android-based phablet. It runs on Android OS v4.1.1 (jellybean) and up gradable to android v4.4.2 (KitKat). Note II comes with a Super AMOLED display, which offers cinema-like viewing experience. The screen is 5.5 inches large with a slim body.
For those who like doing multiple task all at the same time, this phablet comes with an amazing feature that allows a user to transition from one screen to the next at the same time on the same screen!
The popup note feature, which automatically opens when the S Pen is pulled out, allows one to scribble down information while on call.
The photo Note, also exclusively Galaxy allows a user to add handwritten notes at the back of photos, one can also do handwritten emails & notes in the S planner.
Powered with a 3100mAh battery and a 1.6GHz quad-core processor, one will be at ease with the power this device exhibits.
Samsung Galaxy S III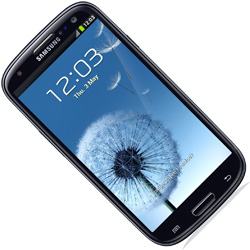 Samsung Galaxy S III comes with a new world of software innovations that are pleasant surprises to many users. Unlike most phones, the top-of-the-range smartphone supports microSD, SDXC and SDHC, which can hold 128GB of media, data and files. There is a whole set of motion controls you can use with the phone. You can shake or pan the phone to respectively update it or move around an image.

Samsung Galaxy S III has a Pop-up Play feature, which is facilitated by the phone's 4.8 inch AMOLED display. This feature allows you to use more than one app at the same time. The S III's 8-MP rear-facing camera has "beauty" and "photo share" modes, which allow for automatic smoothing of facial features and facial recognition respectively.

In terms of call quality, Samsung Galaxy S III provides a greater calling experience compared to other high-end smartphones. It tests and determines your hearing ability to provide suitable frequencies and tones to your ears. The sleek smartphone also boasts Android 4.1.2, 1.5GHz dual-core processor, Jelly Bean, NFC technology, S voice user interface, Bluetooth 4.0, WI-FI and Sprint 4G LTE network, all these wrapped inside a polycarbonate shell.
Samsung Galaxy Y DUOS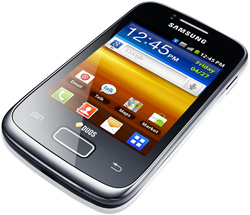 Samsung Galaxy Y DUOS Smartphone is the first android phone to support two sim cards. It was released on 1st January 2012 and later succeeded by the Galaxy Y plus. It is a product of Samsung Electronics in the series of Samsung Galaxy.

This Smartphone runs on Gingerbread version 2.3.6 operating system and has a weight of 109grams. It has up to 290MB RAM and a 512MB ROM (with 160MB accessible to the user). It has a 2GB internal storage and supports removable microSDHC card of up to 32GB. It has a display that is 80mm (3.14 inches) and a capacitive touchscreen TFT FWVGA dimensioned 320×240 px that contain 256 colors. The compatible networks include; GSM 850/900/1800, HSDPA 900/2100 – GT S6102 and HSDPA 850/2100 – GT –S6102B.

This android Smartphone also supports Bluetooth, USB, GPS, GPRS, EDGE, 3G and internet browsing. Its media allow audio and video playback, radio and ringtones (64Polyphonic, MP3, MIDI, AMR, WAV). The zoom camera is 3.0 megapixels with a resolution of 2048×1536.
Samsung Galaxy Mini 2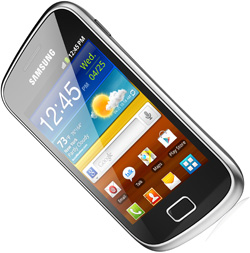 Samsung galaxy mini 2 is a Smartphone manufactured and marketed by the Samsung Electronics. This device was announced and debuted on February 2012 and has continued to gain popularity. It runs on open source android 2.3 operating system dubbed "Gingerbread". This Smartphone is available in four model variations including S6500 (the prototype), S6500D (distributed in Asia and Europe), S6500T (distributed in Australia) and S6500L (sold in Latin American countries).


All the four model variations of Samsung Galaxy Mini 2 have essentially the same technical features and design. They are available three color packages including black, yellow and white. 800 MHz ARMv7 Qualcomm Snapdragon MSM7227A processor powers the Smartphone, which is a little bit faster than that of its predecessor.


It features a 3.27" HVGA TFT LCD screen with pixel density of (320×480), geotagging (A-GPS) and VGA video recording of 30 frames per second. The Samsung Galaxy Mini also has a plain 3-MP camera with neither LED flash nor autofocus. The inclusion of Near Field Communication (NFC) varies with the sub-models. For example, S6500 and S6500T possess NFC while S6500D and S6500L do not.
Samsung Galaxy Ace 2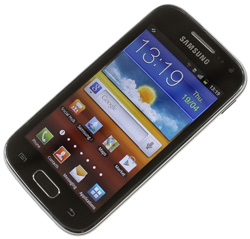 The Samsung Galaxy Ace 2 is designed for consumers who are in search of a reasonably prized smartphone that offers most of the features they require. It comes with an 800MHz dual core process. This phone has a 3.8" display with a 480x800 resolution, which makes it both colorful and bright. The contrast on this device is also impressive.


The device has a front-facing VGA resolution camera and another 5-megapixel camera in its rear. Its front- facing camera is suitable for video messaging and Facebook pictures. The rear camera takes great pictures and its interface is both smooth and responsive. It offers various shooting modes including Geo tagging, smile shot, and panorama.


The Samsung Galaxy Ace 2's home screen is filled with several practical apps such as Polaris Office, a media player, and photo editor. It is ideal for internet browsing. The device offers 1.1GB of internal memory and its supports a micro SD card that offers up to 32GB.
Samsung Galaxy Ace Plus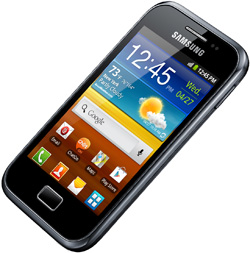 The Samsung Galaxy Ace plus is a highly technologically designed mobile phone from the Samsung Company. This gadget meets all of the user's tastes and preferences. A smart phone with a sleek design and unique features that always ensure it stands out alone when it comes to other rivals in the communication industry.


This is an android OSv2.3 (Gingerbread) phone with a customized touch-Wiz of 4.0 UI. It is highly designed to a Swype text input. Its 5Mp autofocus designed camera takes high definition photos. It has a LED flash, smile detection device and a 3GB micro SD slot meaning that you can take as many photos as possible.

Samsung Galaxy Ace has a Wi-Fi connection, a GPS with A-GPS digital compass and a micro USB charging port. It has an inbuilt standard 3.5 mm audio jack, an FM radio connected with RDS and a proximity sensor with an accelerometer. It is a smart phone that you can always enjoy to use. Buy this phone and you will discover having a quality phone is more than just communicating.
Samsung Galaxy Nexus i9250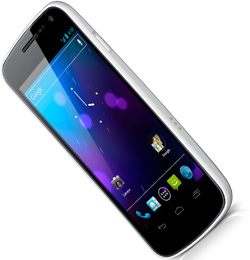 This smartphone is the result of the cooperation between Samsung and Google, two giants in the tech industry. Samsung Galaxy Nexus was released in 2011, and represents the third installment of the Nexus series by Google, which use the Android operating system.

Its main features are a high-definition 4.65 inch display capable of presenting images and video in 1280 x 720 resolution. Inside, a 1.2 GHz dual-core processor (ARM Cortex-A9) and 1 GB of memory are responsible for delivering the computing power for this smartphone, while a graphics processing unit uses a PowerVR SGX540 run on 307 MHz. The device includes a Micro USB 2.0 and is capable of connecting to an HD video device using an HDMI cable.

The phone is operated by the use of soft keys located on the screen itself, which are marked by LED lights underneath, and a very precise touch display. It comes with a 16 or 32 GB of internal memory, and does not allow an additional of an additional storage card. Having in mind that Samsung Galaxy Nexus includes an advanced camera unity with dual microphones, capable of making 1.3 megapixel images or 720p resolution videos, it is a fairly light device, weighing 135 grams.
Because of all this, the Samsung Galaxy Nexus is still a good choice for a reliable smartphone.
Samsung Galaxy Note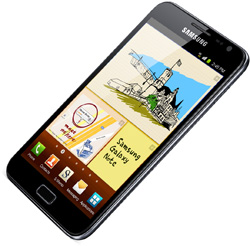 The Samsung Galaxy Note is a high-end mobile phone designed to make it easy for consumers to browse the web, send and view emails, play games, and view images and videos. This is an Android-based device that comes with a large display that measures 5.3". The large display allows you to carry out multiple tasks on a single screen simultaneously. It also offers a 1.4 GHz dual core processor and 16GB internal memory.
The device provides Popup Note that allows you to write down any information while you are receiving or making a call. You can double tap on your screen or pull out the S Pen to write down phone numbers or directions using this feature.
Another unique feature available on this phone is Photo Note, which makes it possible to include handwritten notes on your pictures. The Samsung Galaxy Note offers an S Planner that allows you to send some handwritten notes to various recipients by email.
Samsung Galaxy S II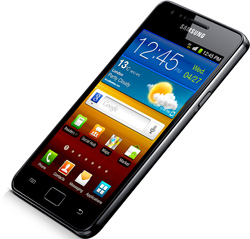 With a dual core processor running at 1.2 GHz, a super slim body and very light, the Samsung Galaxy S II packs a lot of power into a small space. It has dimensions of 125.3 by 66.1 by 8.5 mm making it one of the thinnest smartphones available in the market. It is also very light at 116 grams considering the amount of tech that has been placed inside it. The quality of the pixels on the 4.3 inch screen is also quite hard to miss given the AMOLED technology that was put into building it. This is due to the sub pixel division that is responsible for the amazing graphics quality. The front of the screen is quite neat with just a home key and a rectangular button for menu and back. The phone also has a 3.5mm headphone jack at the top of the device while the micro USB slot which can also be used as a HDMI output is located at the bottom.
Samsung Galaxy Ace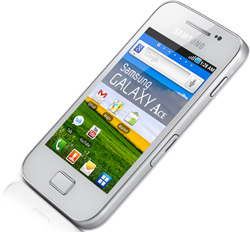 The Samsung Galaxy Ace is among one of the top notch Smartphone by Samsung. It supports both 2G and 3G networks. This handset weighs 101g with a dimension of 112.4 x 59.9 x 11.5 mm. The Samsung Galaxy Ace uses the high end capacitive touch screen and supports multi-touch. It has Corning Gorilla Glass hence it won't get unintentional scratches while in the pocket. It uses the standard 3.5mm jack for the earphones and a loud speaker. It has internal memory storage of 158mb and a Random Access Memory (RAM) of 278mb. A 2 GB memory card is included when purchased but it has the capability of supporting a memory card of up to 32 GB. You can also use GPRS or EDGE to surf the internet. Has Bluetooth and Wi-Fi. Its battery is Li-Ion 1350 mAh .One can always shoot perfect snap shots as it has a camera of 5MP that has face and smile detector plus Geo-tagging. The last but not the least is that it uses the Android OS, v2.3 (Gingerbread).
Samsung Galaxy S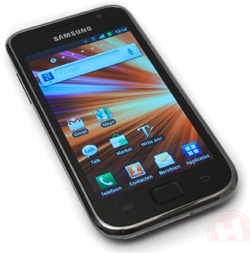 The Samsung Galaxy S is an Android smart phone that operates on an Android 2.1 (Eclair), though it has been upgraded to Android 2.3 (Gingerbread). The phone has a 4 inches super Amoled screen with corning gorilla protection for enduring tough falls. It has 2 cameras with the primary one being 5MP. It uses a mini Sim and support only the 2G and 3G networks.

The phone weighs 119g and has a length of 122.4mm, a width of 64.2mm and a thickness of 9.9mm. It has a memory card slot of up to 32gb with an internal memory of 8 or 16gb with a 512mb RAM. This phone has Bluetooth and Wi-Fi capability and it has a USB and a 3.2mm jack port for the common headphones. It plays multiple audio and video files and can be installed with extra media applications.

It has a long battery life of up to 750 hours on stand-by while using the 2G network while 576 hours when on 3G. The 2G talk time is up to 13hours 30 mins while the 3G is 6 hours 30 mins.