Posted by New Case on 4th Feb 2020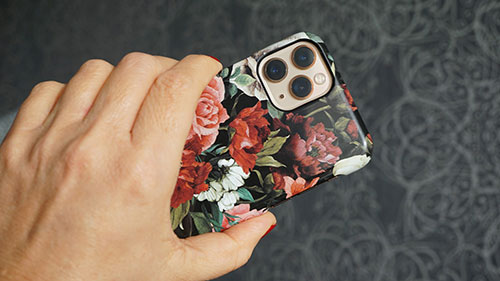 Breaking smartphones is a huge problem, well, for consumers at least.
A 2018 analysis found that Americans smashed, scratched, cracked or burned out over 50 million smartphones. Replacing and repairing the damaged phones cost $3.4 billion.
Another study found Australians also have broken 2.5 million smartphones in the last 5 years.
That's a pretty penny and broken smartphones are an even more significant problem with the leading flagship phones becoming more and more expensive.
Leading the pricey pack, the iPhone 11 is quite an investment with the base model retailing at $699US and the top-flight Max Pro model retailing at $1,099US.
To protect your investment lets rundown the best iPhone 11 cases.
About the iPhone 11's Durability
It seems like every year we hear about how Apple is listening to its customers and using some fancy-sounding compound to make their phone more durable. But we look at the rest of the smartphone market and wonder back at them skeptically.
To Apple's credit, we are getting the most durable iPhone in many a moon. The iPhone 11 has glass on the front and on the back, doubling the potential for cracks and scratches.
Durability is one of the few common concerns shared across nearly all consumers. One study finds that as many as 90% of consumers consider durability in purchasing a phone.
So, as a savvy consumer, you realize that it's better not to be the one to test a phone maker's claims of durability.
What to Consider in the Best iPhone 11 Cases
There are several things to consider. But there are several ways to mix up the approach to keeping your iPhone safe.
The ones we will focus on here are different ways to present the extra protective material covers.
The Combo Cover Approach
There's an ingenious approach to protecting iPhones that has appropriately been shoehorned into women's fashion. That is the wallet-phone cover combo.
This is a brilliant combination of the two things that everyone needs to go out: their wallet and their phone.
With fewer people using paper currency in place of cards or their phones for payments, the need for a wallet to house bills simply isn't needed. If you're an old school type, you can still fit even the (physically) largest bills in this cover.
The roadblock from the combo wallet-phone cover has been a focus on appealling to women's fashion. Now, you can get a genuine leather cover. That's the same stuff the wallet in your back pocket is made of: good old-fashion cowhide.
(Here's a link to our Premium Black iPhone 11 Pro Genuine Leather Business Wallet Case.)
The Knight in Colored Armor Approach
The best way to approach uncertain weather or temperature is to dress in layers. Our next best iPhone 11 case's approach is to do the same with your phone.
Each part of the triple-layer cases plays a different part in the protective trio. The innermost layer includes a flexible, shock-diffusing silicone. This is like Dr. Scholl's for your shoes.
On the back, a rigid, even industrial-strength plastic, gives the true shock absorbing and protection that mitigates most strikes. This includes slots for the buttons on the phone and other design aesthetics.
The final piece is a rigid, raised front panel that prevents the screen from colliding with things.
For additional protection, check the specs of your cover and any screen protector glass to see if it will fit to quadruple the layers of protection on your phone.
(Here's a link our Blue iPhone 11 Shock Proof Triple Layer Military Armor Case.)
The Look Good, Play Good Approach
Back in the day — when smartphones were new and people were still figuring out that it could cost you a fortune to fumble the phone — people would openly deride people who put cases on their phones. The idea was something like, "You paid hundreds of dollars for that phone. Why aren't you showing it off?"
As the smartphone became more common attitudes about covers shifted from just functionality to fashion-ability.
The basic phone case gives a rim of shock-absorbing material that's slightly raised around the front and back of the screen. That leaves the entire back fo the phone for some creativity.
There is a cover out there that features just about anything that you can imagine. We have several that use that space on the back of the cover as a blank canvas.
(Click here for our Black/White Marble Stone Shock Proof Case For iPhone 11 Pro.)
The Putting It All Together Approach
Do you want a cover that looks fabulous, packs in the protection, and does something useful other than just cover the phone?
We have something that does just that. Our triple-layer cover can come in a swanky rose gold colour with a striking symmetrical design. It also comes with the added functionality of the rotating ring. This ring doubles as a stand and a nearly slip-proof handle for one of your fingers while you use the phone.
A certain event precipitates most broken phones: a fall. The ring feature makes it easier for you to hold onto it while you are on the go. It also acts as an assurance that you won't drop the phone on your face if you are using it while lying down.
(Check out the Rose Gold 360 Rotating Metal Ring Armor Stand Case For iPhone 11.)
Get Started
The best iPhone 11 cases do something for you other than just put plastic on your phone. They add protection and something else. So, the question to ask yourself with your phone accessory decisions is what will this really do for me?
What can I do to make the most of this pricey, but essential, bit of technology I carry around in my pocket?
To start making those decisions, click here to get started with an account. It's easier than you think and it gets your rolling with all of your phone protecting or enhancing needs.